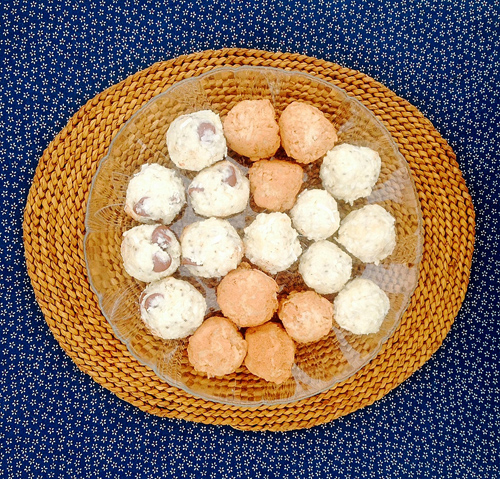 Triple Coconut Fat Bombs
photo by recipe author
Servings: approximately 35
Preparation Time:  15 – 20 minutes
Stir chia seeds in water, set aside to soak for ten minutes.
On low heat, warm coconut cream concentrate until smooth, then remove from heat and add honey and coconut oil. Mix well.
Combine creamy coconut mixture with vanilla, coconut flakes and chia seeds. Add optional chocolate chips. Combine thoroughly. You can use a stand mixer, or mix by hand.
Form into bite size balls and place on cookie sheet. Refrigerate until chilled.
Roll chilled balls in cocoa powder, if desired.
Serve immediately, or save some for later and enjoy while on a walk, hike, or post-workout.
Prepared by Lynelle. Photo by Orissa.
Published on April 8, 2015