These cookies are great. They are very chewy and moist, and as far as cookies go, I'd say they're pretty healthy.
I really recommend using the whole sugar if you have it on hand as it gives the cookies a bit of a caramel-like taste. But if you don't, regular brown sugar will work.
You can use dried coconut chips, flakes, or even shreds with this recipe. I used the chips and no walnuts. And just in case you were wondering, no, I have not tried using all coconut flour for this recipe.
Please pass the milk. The cookies need to be dunked.
That is all.
Enjoy!
Sarah:)
Triple Coconut Oatmeal Cookies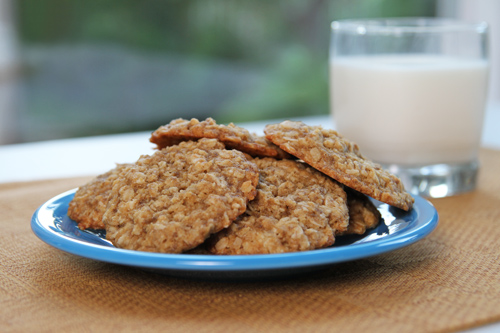 Triple Coconut Oatmeal Cookies
Prepared by Sarah Shilhavy, Photo by Jeremiah Shilhavy
Servings: 3 dozen cookies
Preparation Time: 15 minutes
Preheat oven to 350 degrees F.
Combine brown rice syrup, sugar, butter, coconut oil, egg, and vanilla and beat until fluffy.
In a separate bowl, mix flours, baking soda, and salt. Add to wet mixture and stir well. Stir in oats, walnuts and coconut.
Drop by (serving) teaspoons or a cookie scoop onto greased baking sheets. Bake in preheated oven for 10-15 minutes (edges should be golden brown). Cool for a couple minutes on the cookie sheet before removing.
Recipe submitted by Gail, Alpharetta, GA
Published on August 13, 2010