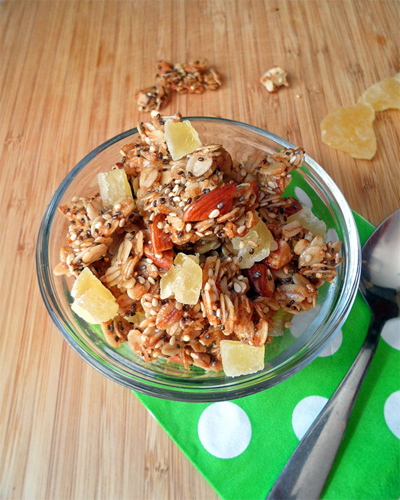 Tropical Coconut Oil Granola Recipe
photo by recipe author
Servings: 6 cups
Preparation Time: 10 minutes
Preheat oven to 300 F. Line a large baking sheet with parchment paper.
Combine all dry ingredients in a large bowl. In a small saucepan melt coconut oil, honey, sugar and vanilla extract over medium heat. Pour over the oat mixture and stir until evenly coated.
Spread mixture onto prepared baking sheet and bake for 15 minutes. Stir and bake for another 15 minutes or until golden brown (an extra 5-10 minutes may be required). Sprinkle chopped pineapple over the granola and let cool. Once cool break granola into chunks and store in an airtight container or large ziploc bag.
Enjoy with milk, over Greek yogurt or as snack.
Recipe submitted by Regina, Calgary
Published on September 20, 2013