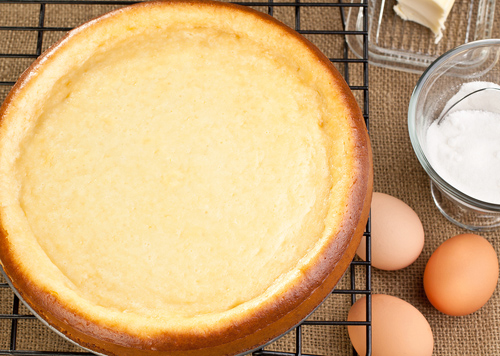 stock photo
Gluten & Wheat Free!
Macaroon Crust (plus cookies):
Preheat oven to 300 degrees F. Grease spring-form pan with coconut oil and dust with coconut flour or line with wax paper or parchment.
In a medium bowl, beat egg whites, vanilla extract, almond extract, and cream of tartar until soft peaks form. Gradually beat in sugar and whip until stiff. Toss together coconut flour, salt, and coconut in a separate bowl; fold into egg whites. Use only enough to make a 1/2 inch crust in the bottom and sides of a 9-inch spring-form pan for cheesecake and make cookies (by heaping tablespoons) with the rest.
Bake 12-20 minutes, or until lightly browned. (Allow cookies to cool on the baking sheet before removing.) Makes enough for 1 crust and 20 cookies.
Cheesecake filling:
Preheat oven to 325 degrees F.
Beat cream cheese, sugar, coconut flour and vanilla in large bowl with electric mixer on medium speed until well blended. Add pineapple juice concentrate and sour cream; mix well. Add eggs, one at a time, mixing on low speed after each addition just until blended. Pour over crust.
Bake for 1 hour and 10 minutes or until center is almost set. Carefully run knife or metal spatula around rim of pan to loosen cake; cool before removing rim of pan. Refrigerate 4 hours or overnight. Top with fresh sliced strawberries or canned cherry or blueberry pie filling.
Recipe submitted by Penny, North Pole, AK
Published on April 12, 2009