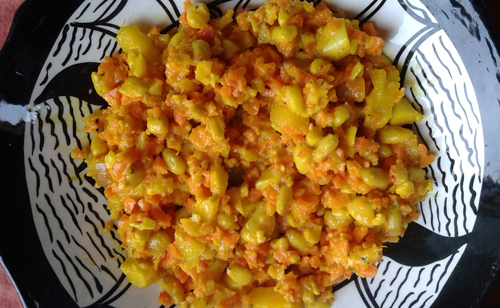 Turmeric Ginger Coconut Chutney
photo by recipe author
Servings: 1 cup
Preparation Time: 20-30 minutes
9-10 medium sized fresh turmeric root pieces
1 ounce of fresh ginger root
4 cloves garlic
1/4 cup piñon nuts (or small serrano chili, de-stemmed)
1/2 cup fresh lemon juice
1/2 – 1 teaspoon salt
1 tablespoon coconut oil, melted
1/4 cup fresh coconut milk*
Peel turmeric and ginger, then mince, mix, and set aside in a small bowl.
Mince garlic and chili (if you choose to add chili). Add them to the mix along with lemon juice, salt, melted coconut oil, and coconut milk.
Serve.
*For the freshest coconut milk make homemade coconut milk. (See video at this link.)
Mary from Santa Fe, NM won $50 for this recipe and photo! Submit your coconut recipes and photos here!
Published on February 3, 2016