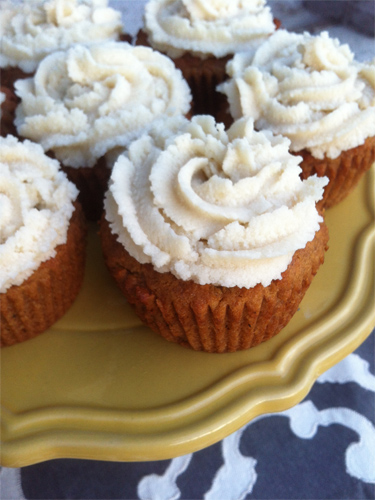 Vanilla Chai Cupcakes with Coconut Cream Frosting Recipe
photo by recipe author
Servings: 12
Preparation Time: 1 hour
Cupcake Ingredients:
Frosting Ingredients:
For the cupcakes:
Preheat oven to 350 degrees ºF.
Combine the softened coconut cream concentrate, eggs, coconut milk, honey, and vanilla until blended. Then add in your dry ingredients. Place batter in 12 muffin cups and bake in an oven preheated to 350 for approximately 20 minutes or until baked through.
For the frosting:
Whip all ingredients together with a hand mixer or stand mixer. Turn your mixer on high and go at it for a few minutes until it is smooth and beautiful. Then place the bowl in the fridge for about 15 minutes. Take it out and whip it again with the mixer. It should be nice and creamy and fluffy. Spread onto the cooled cupcakes just before serving!
* For the freshest coconut milk make homemade coconut milk. (See video at this link.)
Recipe submitted by Elizabeth, Hoover, AL
Published on April 10, 2013