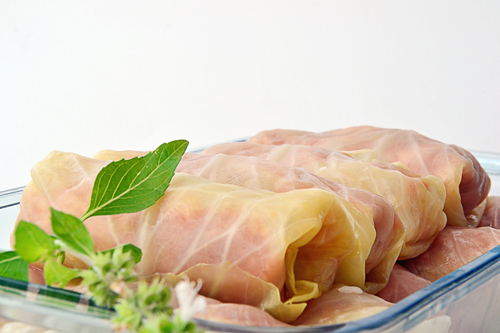 stock photo
Stuffing:
½ cup chopped fresh onion
½ cup chopped fresh green pepper
½ cup coconut oil
½ cup yellow cornmeal
½ cup whole wheat flour
2 teaspoons baking powder
½ teaspoon salt
¾ cup room temperature water with 1 tablespoon coconut cream concentrate dissolved in it
1 free range egg
Preheat oven to 425 degrees F.
In cast iron skillet, sauté onion and green pepper in coconut oil.
Stuffing: In a large bowl combine cornmeal, flour, baking powder and salt. Add coconut cream concentrate and water mixture. Mix well, adding egg. Add the onion, pepper and coconut oil and mix again. Be sure your egg is mixed in well before you add the hot pepper and onion mixture.
While this mixture stands, steam or blanch cabbage leaves for about 5 minutes until pliable.
Drain cabbage leaves and spoon on each leaf an amount of the stuffing mixture that you can wrap the cabbage leaf around. Place folded side down in the bottom of a casserole dish. Pour sauce over the cabbage rolls. Cover and bake for 30 minutes. The stuffing should be firm.
This is enough for a generous serving for two.
Recipe submitted by Tammy, Cape Girardeau, MO
Published on August 17, 2008