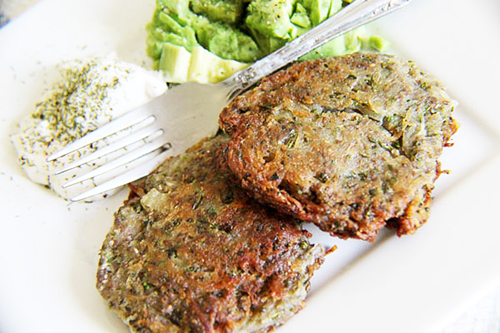 Veggie Tot Patties
photo by recipe author
Servings: 4
Preparation Time: 25 minutes
1 cup broccoli florets, finely chopped
1 cup zucchini, finely shredded
1 cup yellow squash, finely shredded
1 cup cauliflower florets, finely chopped
1 large potato, peeled and finely shredded
1 teaspoon garlic, minced
1 egg 
1/3 cup almond flour*
1/4 cup arrowroot starch
2 tablespoons coconut flour
1 teaspoon salt
1/2 teaspoon black pepper
1/2 teaspoon dill weed
2 tablespoon coconut oil for frying
Almond Flour:
*You can grind your own almond flour by placing whole almonds in a blender/food processor and blending until you get a fine meal.
In a large bowl, combine broccoli florets, zucchini, squash, cauliflower, potato, garlic, egg, flour, salt, pepper and dill. Blend together using a fork.
In a large skillet, heat coconut oil over medium heat.
Form vegetable mixture into little patties and pan fry for about 6-8 minutes on each side or until crispy.
Place cooked patties on a plate lined with a paper towel to drain off any excess oil. Serve with guacamole and sour cream or mayo, if desired.
Courtney from Weir, KS won $50 for this recipe and photo! Submit your coconut recipes here!
Published on June 1, 2016