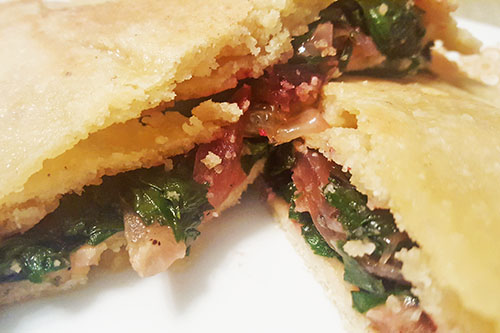 White Bean and Beet Green Quesadillas
photo by recipe author
Servings: 4
Preparation Time: 45 minutes
Add garlic cloves to 2 tablespoons of coconut oil and roast at 300° F for 20 minutes.
Meanwhile, heat 2 tablespoons of coconut oil in a pan on medium heat. Add sliced onions and sauté until they become soft. Add the beet greens and sauté for 5 to 10 minutes on medium heat. Add 1/2 teaspoon of salt. Set aside.
Add garlic, coconut oil, 1/2 teaspoon salt, and 1/2 teaspoon chipotle chili pepper to cooked white beans then blend with an immersion blender, stand blender, or food processor. Add additional melted coconut oil or broth of choice if necessary to make bean mixture smooth.
To assemble quesadillas, spread about 1/2 cup of prepared bean mixture on each tortilla, top with the greens mixture, then sprinkle with shredded cheese. Place another tortilla on top.
Drizzle each tortilla with melted coconut oil and bake at 350° F for 20 minutes, flipping after 10 minutes. Serve hot.
Kelly from Monterey, CA won $50 for this recipe and photo! Submit your recipes and photos here!
Published on October 19, 2016