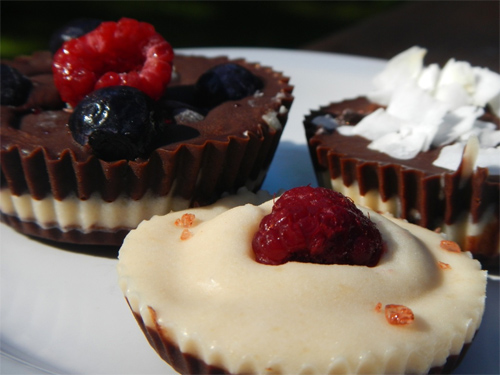 White and Dark Chocolate Candy Cups Recipe
photo by recipe author
Servings: 12
Preparation Time: 1 hour
Dark Chocolate:
1/2 cup virgin coconut oil, melted*
1/2 cup cacao powder (or cocoa powder)
3 tablespoons maple syrup
1/2 teaspoon vanilla extract
White Chocolate:
1/2 cup virgin coconut oil, melted*
1/2 cup macadamia or cashew butter
2 to 3 tablespoons raw honey
1 teaspoon vanilla extract
pinch sea salt
Super Fun, Superfood Toppings:
blueberries, fresh or frozen
raspberries fresh or frozen
dried cherries
raw cacao nibs
pink salt crystals
Dark Chocolate: Melt coconut oil using a double boiler or food dehydrator. Stir together coconut oil, cacao powder, maple syrup & vanilla into a smooth chocolate sauce.
White Chocolate: Blend whole macadamia nuts (or nut butter), coconut oil, and honey in a blender to create a super smooth white chocolate. You can also use a store bought cashew or macadamia butter and stir it into the coconut oil and honey if you don't have a high speed blender.
Assembly:
Line a standard muffin tin with paper liners. Pour about 1 tablespoon of dark chocolate into each cup. Then place into freezer to firm up. Once firm, add a spoonful of white chocolate to each candy cup for the 2nd layer. You can spread it out all the way across, or you can put a dollop in the center to create a secret filling. Also have fun adding in some of your favorite super foods into the white chocolate layer, like frozen berries, cacao nibs, etc. Put back into the freezer to firm up. Once firm, pour over the final layer of dark chocolate and decorate with your favorite superfood goodies!
Recipe submitted by Andrea, Willamina, OR
Published on May 29, 2013