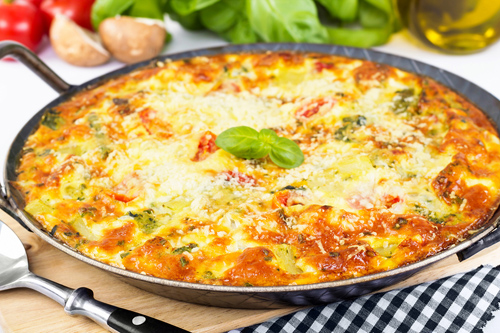 stock photo
Serves 2
A frittata is an Italian omelet that is typically cooked in olive oil, but I have made some delicious frittatas using only expeller-pressed coconut oil ("EPCO"). You could use a combination of olive oil and EPCO if you wanted some olive oil flavor.
Many frittata recipes call for browning under the broiler, but this is not necessary. In the old days on the farm in Italy, people didn't have broilers anyway. The frittata usually has a filling – sautéed diced vegetables, cheese, sausage, etc. The filling is usually lightly sautéed in the skillet first, then the beaten eggs are added. The finished frittata is sliced into wedges like a pizza, and can be eaten warm, room temperature or cold. It can even be taken on a picnic.
Expeller pressed coconut oil (as much as you need)
1/8 red bell pepper, diced finely
1 1-inch wedge of red onion, diced finely
1 small zucchini, diced
4 large eggs
grated Asiago cheese (optional)
Pour or spoon some EPCO into a 10 inch skillet. Turn heat to medium-low. When the oil is hot but not smoking, sauté red pepper and onion lightly for a couple of minutes; add zucchini and sauté for a few more minutes, until golden brown. If necessary, raise heat slightly and add more oil.
Lightly beat the eggs in a bowl, add salt and pepper and pour into the skillet. Tilt the pan so that eggs cover entire bottom of skillet. DO NOT STIR eggs! Cook gently, tilting the pan to let some of the uncooked egg run to the bottom of the pan but do not stir. Repeat a few times until all available runny egg is cooked. Add cheese, if desired.
Cook until golden brown on the bottom. (While cooking the bottom of the frittata, I like to cover the skillet with a lid so that the upper side of the frittata is cooked slightly by the steam). Use a large flat lid or a dinner plate to flip the skillet over, so that the frittata rests on the lid or plate. Slide the frittata back into the skillet and cook the other side. (Or if that is too awkward, just cut the frittata into wedges at this point and flip the wedges over one at a time).
Other frittata combinations:
Mushroom, Red Onion & Basil:
3 large eggs
about 1/3-1/2 cup fresh mushrooms, roughly chopped
about a 2/3″ wedge of red onion, chopped
3-4 basil leaves
Sauté the mushrooms until they start to turn golden; add onion and sauté till mushrooms are slightly browned. Snip the basil leaves into the beaten egg yolks along with salt & pepper. Continue as directed above.
Mushroom, Asiago & Chives
3 large eggs
about 1/3-1/2 cup fresh mushrooms, roughly chopped
about 2 T. snipped fresh chives
about ¼ cup grated Asiago cheese
Sauté mushrooms until very golden brown. Meanwhile, beat eggs and snip chives into egg mixture. Add pepper and just a touch of salt (Asiago is already somewhat salty). Raise heat, pour eggs into pan, tilt pan. Spread cheese on top and cover pan. Continue as usual.
Recipe submitted by Simi, Los Angles, CA
Published on March 15, 2009