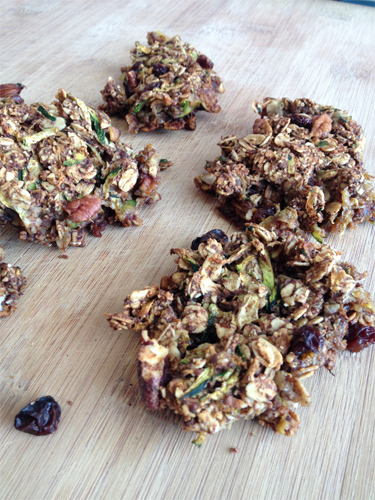 Zucchini Oat Bars Recipe
photo by recipe author
Servings: 6
Preparation Time: 60 minutes
1. Make flax and water at least 1 hour prior to starting.
2. Preheat oven to 350 degrees ºF.
3. Mix oats, flour, baking soda and powder, spices and salt in medium size mixing bowl.
4. In large mixing bowl add flax egg, syrup, oil and vanilla. Blend well.
5. Add dry ingredients in 3 parts. Mix well.
6. Add zucchini to bowl and mix.
7. Add raisins and pecans and mix really well.
8. Spray baking sheet with Pam. Pour batter onto a sheet pan and press out and down with fingers.
9. Bake for 45 minutes.
Recipe submitted by Megan, San Antonio, TX
Published on August 16, 2013