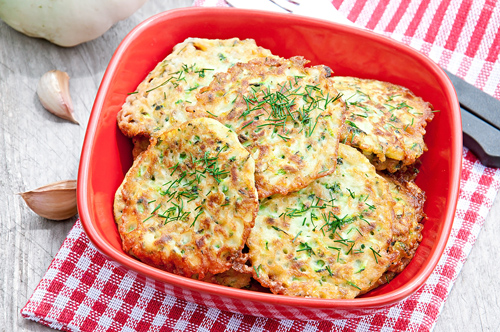 stock photo
Grate zucchini into a bowl. Add eggs and mix thoroughly.
Start heating oil in a large skillet.
Add onion, black pepper, asiago cheese and basil to the zucchini. If the batter looks too liquidly, add a bit of coconut flour just to thicken slightly.
When the oil is hot but not smoking, put a forkful of batter into the pan, immediately mashing it down with a fork to spread the batter and form thin pancakes that can crisp easily. Repeat till pan is full. It's OK if the pancakes run together.
When the pancakes are golden brown or deeper brown on the underside, flip them over and cook on the second side. If they have stuck together, cut them in the skillet and flip them individually. When golden brown on the second side, remove pancakes. Drain on paper towels.
I like to add salt at the table rather than in the batter.
Recipe submitted by Simi, Los Angeles, CA
Published on December 3, 2008