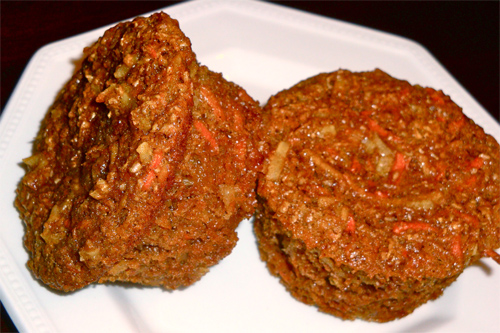 Apple Coconut Carrot Bran Muffins
photo by recipe author
Wholesome, moist and delicious, these are wonderful with a glass of milk for breakfast or a quick, satisfying snack. Also a great way to sneak some extra veggies and fruit into your kids unawares. 😉 These freeze and reheat beautifully for make-ahead convenience.
Servings: 12-15
Preparation Time: 30 minutes
1 cup whole wheat flour
1 cup unprocessed oat bran
1 1/4 teaspoon baking soda
1/2 teaspoon salt
6 tablespoons honey
2 tablespoons molasses
3/4 cup milk
1/4 cup coconut oil, melted
1 cup finely grated carrots
1/2 cup grated or diced baking apples (such as Granny Smith)
1/2 cup shredded coconut or coconut flakes
1/2 cup chopped walnuts (optional)
Preheat oven to 350.
Sift together dry ingredients. In a separate bowl, beat eggs, then whisk in honey, molasses, milk and oil, in that order. Make a well in dry ingredients, pour liquid into the well and stir with a fork or whisk just until combined. Add carrots, apples, coconut and walnuts (if desired).
Pour into greased or paper lined muffin pans, filling each cup about 3/4 full. Bake 20-25 minutes or until a toothpick inserted in the center comes out clean.
Serve warm with butter and a glass of cold milk – yum!
Recipe submitted by Lydia, Salem, VA
Published on January 12, 2011