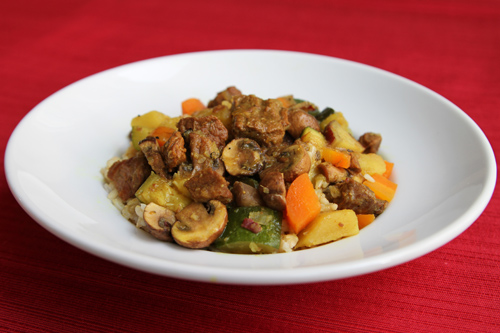 Bison Coconut Cream Curry Stew
Prepared by Marianita Shilhavy, Photo by Jeremiah Shilhavy
Servings: 5
Preparation Time: 15 minutes
1 small onion, diced
4 cloves garlic
Coconut oil, as needed for sautéing
1 lb. bison stew meat
2 teaspoon curry
1 teaspoon cumin
1 teaspoon turmeric powder
3 tablespoons coconut cream concentrate
2 cups beef broth
1 medium sized sweet potato, cubed
1 medium sized carrot, chopped
2 stalks celery, chopped
1 medium size zucchini, chopped
8 oz. baby bella mushrooms, sliced
Sauté onion and garlic in coconut oil until onion is soft. Add bison and sauté for another 2 minutes.
Add curry, cumin, turmeric, salt, pepper and coconut cream concentrate and beef broth. Cover and simmer for 2 hours or until the meat is tender. Add remaining ingredients and continue cooking until the vegetables are soft and cooked through.
Serve over rice or pasta and top with sour cream or plain yogurt.
Enjoy!
Recipe courtesy Marianita Shilhavy
Published on December 1, 2010