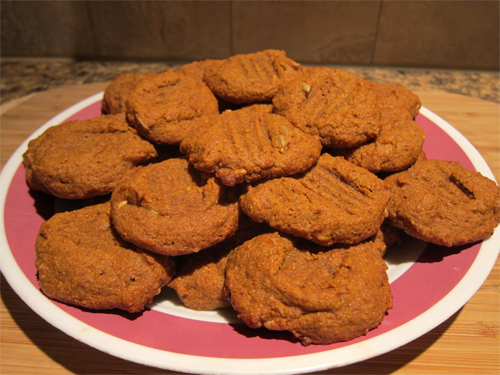 Camote Sweet Potato Cookies Recipe
photo by recipe author
Servings: about 36
Preparation Time: 30 minutes
1 cup sweet potato (boiled and mashed)
1/2 cup coconut oil
1/2 cup honey
1 egg
1/2 teaspoon salt
1/2 teaspoon ground cloves
1 teaspoon cinnamon
1 teaspoon baking soda
1/2 cup almond flour*
1 1/2 cup spelt flour
1/3 cup nuts (optional, I used sunflower seeds)
Preheat oven to 325 degrees ºF.
Mix sweet potato, oil, honey and egg in a bowl.
Add in all the dry ingredients: salt, cloves, cinnamon, baking soda, almond and spelt flour, and mix well. Fold in nuts.
Drop batter by tablespoonfuls unto a prepared cookie sheet and bake for about 20 minutes. After 5 minutes in the oven, press cookies down lightly with a fork.
Let cool and enjoy!
*You can grind your own almond flour by placing whole almonds in a blender/food processor and blending until you get a fine meal.
Recipe submitted by Emmardy, Maria Stein, OH
Published on November 8, 2013