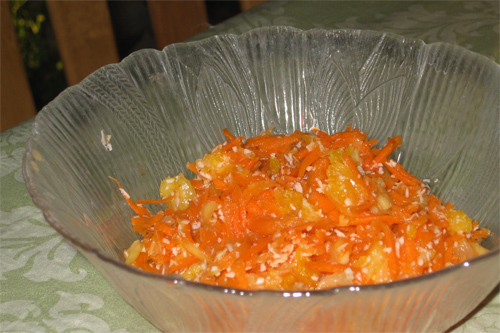 example photo shown
Usually I have made this with mayo and didn't want to eat that so I thought the cashews would provide the creamy texture and sure enough it did. So healthy and yummy. Add more or less of the first four ingredients as you like.
3 medium dates
1/2 cup raw cashews
1/4 cup coconut milk*
5 large carrots, shredded
1/4 cup sunflower seeds
1/4 cup raisins
1/4 coconut flakes
Soak the dates in hot water for about 15 minutes
Place cashews, dates and coconut milk in blender and blend till creamy. Put all the other ingredients in a bowl and stir well and let sit for as long as you can stand it. 🙂
*To make Coconut Cream Milk stir approximately 1 teaspoon of coconut cream concentrate to every 6 oz of water or make Homemade Coconut Milk.
Recipe submitted by Sharon, Celina, TX
Published on July 8, 2009