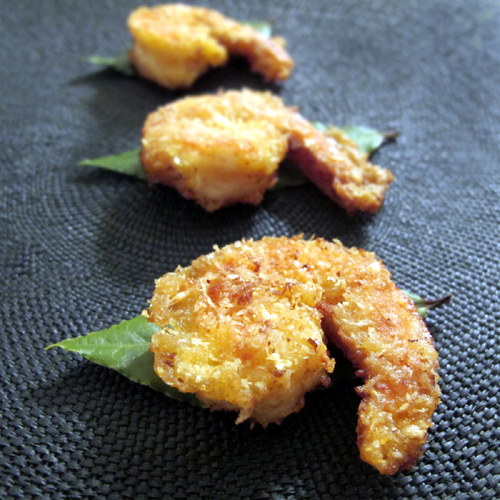 Chili-Coconut Crusted Shrimp
Photo by recipe author
Servings: 2-4
Preparation Time: 15
This Chile-Coconut Crusted Shrimp is a terrific appetizer or can be served with a bowl of rice and stir-fried vegetables as a main course.
24 large shrimp or prawns
About 1/4 cup dried Thai Chilies
1/2 cup flour
Salt to taste
1 egg
water
2-3 tablespoons coconut oil
Peel the shrimp, leaving the tails on. Rinse and pat dry.
Place chilies in a spice grinder and grind into a fine powder. In a shallow bowl, mix shredded coconut, flour, salt, and 2 tablespoons of the chili powder.
Heat oil in a large skillet. Whisk the egg in a bowl with a little bit of water. Dip each shrimp in the egg mixture and coat it lightly with the chili-coconut mixture.
Fry for about two minutes on one side and another minute on the other side, or until golden brown and crispy.
Recipe submitted by Natasha, Fairfax, VA
Published on March 1, 2010