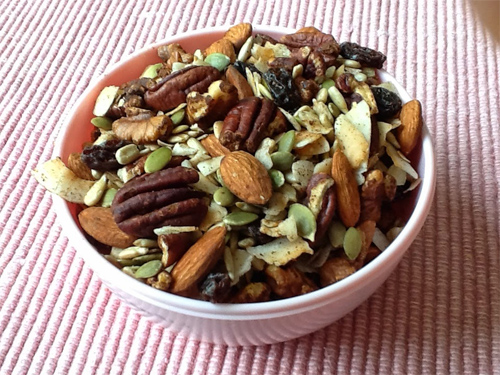 Cinnamon Almond Walnut Pecan Coconut Raisin Trail Mix
photo by recipe author
Servings: 10
Preparation Time: 15 minutes
Toasted Cinnamon Nuts:
3 cups nuts (see below)
2 teaspoons
ground cinnamon
3/4 teaspoon
salt
1 cup toasted cinnamon almonds
1 cup toasted cinnamon walnuts
1 cup toasted cinnamon pecans
2 cups raisins
1/2 cup sunflower seeds
1/2 cup
pumpkin seeds

1 and 1/2 cups toasted
coconut flakes
Directions for the Toasted Cinnamon Nuts: (NOTE: the time to roast the nuts is NOT included in the prep time.)
Place the nuts in a bowl, sprinkle with water to get the nuts wet so the cinnamon will stick to the nuts. Add the cinnamon and salt. Stir together until the nuts are coated with the cinnamon and salt.
Arrange the nuts in a single layer on a large baking sheet. Bake at 250 degrees for 1 hour.
THEN:
Mix all ingredients together in a bowl.
Denise from Wake Forest, NC just won $50 for this recipe and photo!
Submit yours
here.
Published on June 6, 2014