These macaroons are one of the easiest and most delicious quick sweet treats I've made in a while. The ingredient list doesn't make them look like anything special, but believe me, they are.
The secret to the fudgy texture is the almond flour. The stuff just melts right into all that chocolaty goodness and turns the whole thing into a fudgy batter just begging to be eaten. I ate this stuff before it even made it to the refrigerator. And I ate some more once it came out of the refrigerator!
Feel free to cut back a little on the maple syrup if you don't like it too sweet. And just a tip for grinding your own almond flour: stop as soon as it turns into a powder. Scrape the corners of the canister down and shake the big bits into the center as well. Too much grinding and you'll end up with almond butter. Not cool. Not for this recipe anyway.
Enjoy!
Sarah 🙂
Coconut Chocolate No-bake Macaroons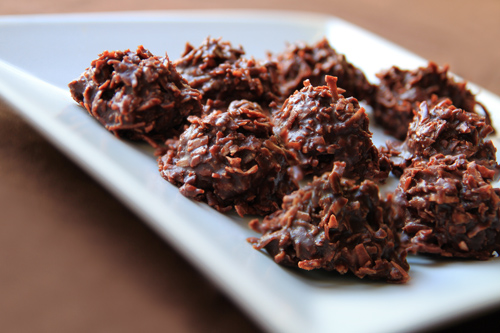 Coconut Chocolate No-bake Macaroons
Prepared by Sarah Shilhavy, photo by Jeremiah Shilhavy
Servings: yields about 40 macaroons
Preparation Time: 15 minutes
Mix all ingredients together well. Form into small balls using a spoon or cookie scoop and refrigerate until firm.
Recipe submitted by Stephanie, Goodyear, AZ
*You can grind your own almond flour by placing whole almonds in a blender/food processor and blending until a fine meal.
Published on March 31, 2010