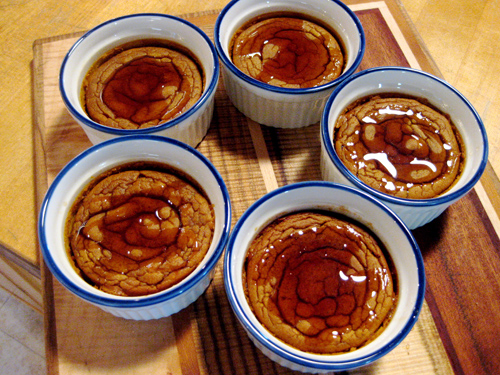 Coconut Maple Pumpkin Ramekins
photo by recipe author
Servings: 6
Preparation Time: 5 minutes
Preheat oven to 350 degrees ºF.
Place coconut cream concentrate in a small bowl and pour hot water on top. Let sit for a minute or so and then stir to combine.
Place the eggs, pumpkin pie mix, vanilla, maple syrup and coconut cream concentrate mixture into a blender jar. Blend for 1 minute until smooth and creamy. Pour into 6 ramekins.
Bake for 45 minutes. Center should be set and knife should come out clean. Let cool for 15 minutes and then drizzle with maple syrup. Serve warm or at room temperature.
Karen from Quincy, CA just won $50 for this recipe and photo! Submit yours here.
Published on December 17, 2014