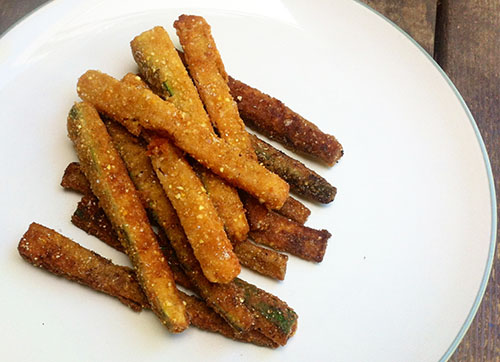 Coconut Oil Fried Zucchini Fries
photo by recipe author
Servings: 1-2
Preparation Time: 15 minutes
1 medium zucchini
1/2 cup milk
2 tablespoons coconut flour
2 tablespoons corn meal
1 tablespoon arrowroot powder
1 teaspoon salt
1/4 teaspoon black pepper
coconut oil (to cover pan to 1/4 inch deep)
Julienne the zucchini. Place milk in a small bowl. In another small bowl mix coconut flour, corn meal, arrowroot powder, salt and black pepper.
In a medium cast iron pan heat coconut oil on medium high.
Dip julienned zucchini a few pieces at a time into milk and then roll in the flours, coating thoroughly. Gently place battered zucchini in the pan with hot oil and brown on all sides. Remove from pan and allow to cool. Best served warm.
Jacquelyn from Dexter, OR won $50 for this recipe and photo! Submit your recipes here! 
Published on August 15, 2016