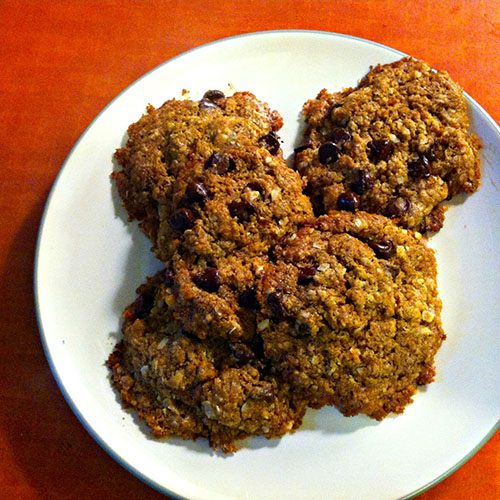 Crispy Coconut-y Chocolate Chip Cookies
photo by recipe author
Servings: 24 cookies
Preparation Time: 20 minutes
Preheat oven to 350° F.
Combine flour, baking soda, salt, cane sugar, and oatmeal in a large bowl and mix thoroughly.
In a medium bowl combine coconut oil, vanilla extract, and eggs and mix thoroughly.
Slowly add wet ingredients to dry and stir until well combined. Add chocolate chips and stir in evenly.
Scoop dough into balls and drop onto a cookie sheet that has been greased with coconut oil, press each cookie down slightly. Cook for 10-12 minutes or until golden brown. Remove from oven and allow to cool before removing from tray.
Jacquelyn from Dexter, OR won $50 for this recipe and photo! Submit your recipes here!
Published on December 16, 2016