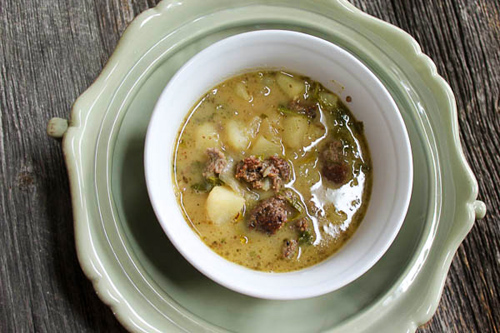 Dairy Free Sausage Potato Chowder
photo by recipe author
Servings: 4
Preparation Time: 30 minutes
1 tablespoon coconut oil
1/2 pound sausage
2 cups potatoes, peeled and diced
1/2 cup onion, diced

1 garlic clove, minced

1/2 teaspoon sage
1/4 teaspoon salt

1/8 teaspoon black pepper

2 cups chicken, beef or bison broth
2 cups kale or spinach, chopped

1 cup coconut milk*
In a large stockpot, heat coconut oil and brown sausage until cooked through.
Add in potatoes, onion, garlic, sage, salt, pepper and broth. Bring to a boil and simmer for about 15-20 minutes or until potatoes are fork tender.
Add in spinach and coconut milk and heat for about 5 more minutes or until spinach is soft.
*For the freshest coconut milk make homemade coconut milk. (See video at this link.)
Courtney from Weir, KS won $50 for this recipe and photo! Submit your coconut recipes and photo here!
Published on February 12, 2016