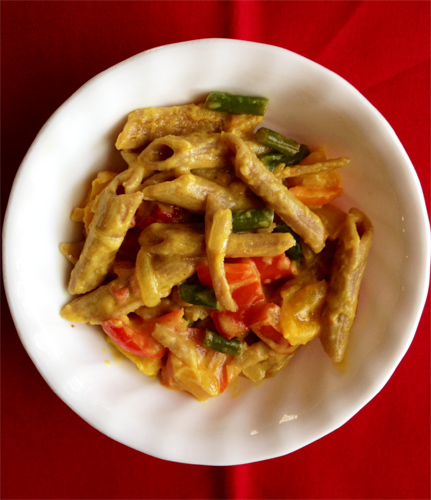 Servings: 20
Preparation Time: 7 minutes
1 cup uncooked organic einkorn whole wheat penne pasta
2 tablespoons virgin coconut oil
1 tablespoon finely chopped garlic
1/2 cup chopped onion
1/4 cup diced organic red bell pepper
1/4 cup diced yellow bell pepper
1/4 cup organic diced tomato
1/2 teaspoon salt, or to taste
1/4 cup chopped (1 inch size) organic French beans
1/8 teaspoon organic turmeric powder
1/4 teaspoon organic cayenne pepper
1 cup coconut milk made from dried coconut flakes* or coconut cream concentrate
Cook penne pasta according to directions on the package.
In a pan, heat coconut oil on medium heat. When the oil is hot, add chopped garlic. Stir. When the garlic turns slightly brown add chopped onion and sauté until the onion is translucent. Then add the chopped red bell pepper, yellow bell pepper, tomato and salt.
Cover and let it cook. Check intermittently. Stir as necessary. Once the vegetables are cooked, add turmeric, cayenne pepper. Stir well. Add coconut milk, mix well and turn off the heat. Serve over cooked pasta. Alternately, after adding the coconut milk, add the cooked pasta. Stir well and serve hot.
*For the freshest coconut milk make homemade coconut milk. (See video at this link.)
Sheetal from Foster City, CA just won $50 for this recipe and photo! Submit yours here.
Published on September 22, 2014