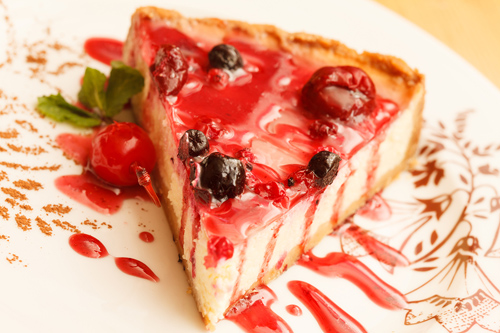 stock photo
Crust Ingredients:
Preheat oven to 325 degrees.
Blend the first four ingredients together in a blender or food processer to the consistency of graham cracker crumbs. Heat the coconut oil in a medium sized saucepan until melted. Remove from heat and stir in the blended dry ingredients until moistened. Press the crust mixture into the bottom of a cheesecake or pie pan. (The recipe can be doubled to fit a 9×13 pan.) For a no-bake cheesecake or pie, bake the crust in the oven for approximately 10 minutes. Cool and fill with cheesecake or pie filling. For a baked cheesecake, (below) proceed by combining the following ingredients, or your own cheesecake recipe.
Filling:
3 (8oz.) boxes of cream cheese
½ cup honey (or less, plus a dash of Stevia)
1 – 2 teaspoons vanilla extract
¼ cup lemon juice
1 large egg
Blend the above ingredients until smooth with a hand mixer. Pour into the unbaked crust and spread evenly. Bake at 325 degrees for approximately 20-25 minutes, or until puffed up and starting to lightly brown. Towards the end of baking, if it begins to get too brown before firming up in the middle, turn oven down to 300 degrees and bake until the middle is (or almost) solid.
For an optional fruit topping, heat one 10 oz. package of frozen fruit – blueberries, strawberries, raspberries, or cherries, in a small saucepan until hot. There should be approximately ½ cup of juice in the fruit, if not, add some water. Add honey/stevia to taste. In a small cup, mix 2 tablespoons of arrowroot, corn starch, or kuzu root starch with 1-2 tablespoons of water and blend. Add this mixture to the HOT fruit, and stir until thickened. Spread the fruit mix over the cheesecake.
Refrigerate cheesecake for at least an hour, until cold and ready to serve.
Recipe submitted by Deborah, Shirley, IN
Published on December 17, 2008