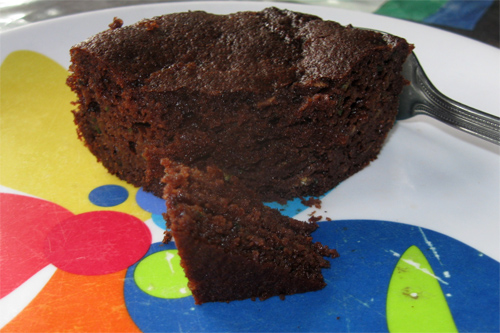 Gluten Free Chocolate Zucchini Bread or Muffins
photo by recipe author
Servings: 12
Preparation Time: 20-60 minutes
1/2 cup honey
2 eggs
1/2 cup coconut oil, melted
2 1/2 cups almond flour*
2 cups grated zucchini
1/3 cup raw cacao or
cocoa
1 teaspoon baking soda
1/2 teaspoon salt
Preheat oven to 350 degrees ºF. Grease and/or line a loaf pan, 8×8 cake pan or muffin cups with extra coconut oil and parchment paper.
Mix honey, eggs, and coconut oil with electric mixer. Add remaining ingredients. Combine well.
Bake in preheated oven. See below for variations and cooking times for each.
Muffins – makes 12-14 – bake 12-15 minutes (1/4 cup batter for each muffin)
Bread – bake 40-50 minutes or until toothpick comes out clean.
Cake – 8×8 pan. Bake 20 minutes.
*You can grind your own almond flour by placing whole almonds in a blender/food processor and blending until you get a fine meal.
Joy from Linden, TN just won $50 for this recipe and photo!
Submit yours
here.
Published on June 21, 2014