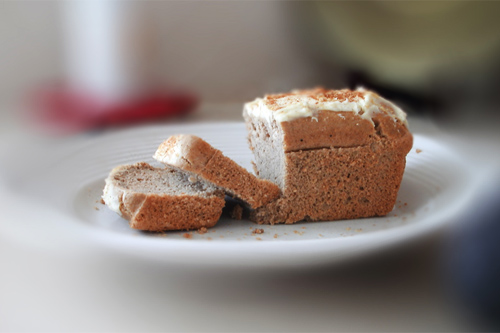 Gluten Free Coconut Flour Gingerbread
Photo by recipe author
Servings: 8
Preparation Time: 45 minutes
1/2 cup coconut flour
1/2 cup gluten free oat flour (you can also use buckwheat or even almond flour)
1/8 teaspoon salt
1/4 teaspoon baking soda
1/2 teaspoon baking powder
1 1/2 teaspoons ginger
1/2 teaspoon cinnamon
3 eggs
1/2 cup coconut milk*
1/4 cup melted coconut oil
1/4 + 1/8 cup raw honey
Preheat oven to 350 degrees F.
Combine all dry ingredients in a small bowl and whisk together.
In a large bowl combine eggs, coconut milk, coconut oil and honey. Whisk together. Pour wet ingredients into dry ingredients, mixing thoroughly until all clumps have disappeared.
Grease an 8×8 inch glass baking pan (or a small loaf pan) with coconut oil and fill pan with batter.
Bake in a pre-heated oven for 40 minutes, or until firm to the touch, or when a toothpick or fork tine inserted in the center comes out clean.
Cool completely. Top with cream cheese frosting and sprinkle with extra ginger, cinnamon and organic sugar.
* For the freshest coconut milk make homemade coconut milk. (See video at this link.)
Recipe submitted by Brandon, Dallas, TX
Published on August 4, 2010