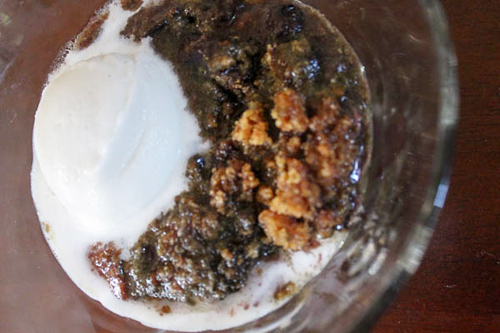 Gluten Free Slow Cooker Blueberry Peach Crisp
with Vanilla Coconut Milk Ice Cream
photo by recipe author
Servings: 10
Preparation Time: 3 hours
Blueberry Peach Filling:
8 peaches, peeled and thinly sliced
2 cups blueberries
1 teaspoon ground ginger
1/4 cup raw honey
Crisp:
Vanilla Ice Cream:
2 cups coconut milk**
1 cup almond milk, unsweetened
1 teaspoon vanilla extract
1/2 cup whole cane sugar
fresh vanilla bean, if desired
Filling:
Grease a slow cooker with coconut oil or palm shortening. Add peaches, blueberries, ginger, honey and cinnamon; toss until combined.
Crisp:
In a small bowl, combine almond flour, arrowroot starch, coconut flour, salt, honey and coconut oil or palm shortening.
Mix with a fork until blended and crumbly. Sprinkle crumb mixture over fruit. Cover and slow cook on low heat for 2-3 hours. Turn off and let mixture set up.
Coconut ice cream:
Whisk together coconut milk, almond milk, vanilla, sugar and vanilla bean until sugar is dissolved. Churn according to ice cream maker instructions.
*You can grind your own almond flour by placing whole almonds in a blender/food processor and blending until you get a fine meal.
**For the freshest coconut milk make homemade coconut milk. (See video at this link.)
Courtney from Columbus, KS won $50 for this recipe and photo! Submit your coconut recipes and photos here!
Published on July 22, 2015