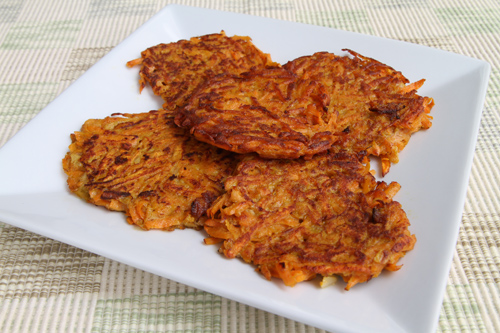 Gluten Free Yam Pancakes
Prepared by Sarah Shilhavy, Photo by Jeremiah Shilhavy
Makes about 6 pancakes
Preparation Time: 15 minutes
1 medium yam, peeled
1 or more eggs
1 teaspoon red onion, chopped
freshly ground black pepper
virgin coconut oil
salt
Use the coarse section of a grater to grate the yam into a bowl. Take a small handful and squeeze hard to remove any excess juice. Return the grated yam to the bowl.
Add 1 whole egg and mix to blend. If the mixture looks a little dry, add one more egg yolk. It should look a little creamy, like cole slaw, but it should not be dripping with egg liquid. Add onion and pepper.
Heat a large skillet and add enough coconut oil to cover the bottom. When oil is hot but not smoking, drop a forkful of yam mixture into the skillet and flatten with a fork.
Fry until brown and crispy; flip and fry on other side. Regulate heat so that oil does not smoke and add more oil if necessary.
Repeat until all the yam mixture is used. It's ok if the pancakes are touching in the skillet.
Drain on paper towels if desired. Salt to taste.
Note: It's best not to re-use the oil for a second batch because the oil develops an unpleasant odor. It's best to use two separate skillets, or wash and dry the skillet after use.
Recipe submitted by Simi, Los Angeles, CA
Published on October 4, 2010