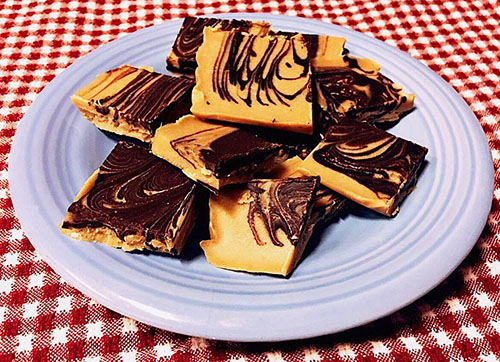 Marbled Peanut Butter Fudge
photo by recipe author
Servings: 12
Preparation Time: 5 minutes + 1 hour freezing
Peanut Butter Fudge:
Chocolate Marble:
Line a 9×9 baking pan with parchment paper.
On the stovetop melt all of the fudge ingredients on low heat. Pour into pan.
Now melt the chocolate marble ingredients. Pour the chocolate over the peanut butter mixture in the pan and use a fork to swirl the chocolate into the peanut butter.
Freeze for an hour then cut into squares and serve.
Keeps best in the freezer.
Recipe and photo by Orissa. Submit your recipes and photos here for a chance to win $50!
Featured Product
Our Grade A Very Dark Maple Syrup is sourced 100% from small family farms in southwestern Wisconsin. A variety of species of hardwood trees, including our maple trees, grow on the steep hillsides of the Ocooch Mountains that surround the beautiful Kickapoo River Valley. These natural forests in Wisconsin are a healthy mix of many species of trees, unlike huge commercial maple plantations that are often planted in former wheat fields. Great care is taken in harvesting the sap to make the Maple Syrup, ensuring that the health of the tree is not compromised. Our syrup comes from farms that practice sustainable agriculture and that are committed to the following:
No pesticides or chemicals were used to manage this forest. Our farmers do not use any chemical pesticides, herbicides or fertilizers to manage their forests. Our syrup is also tested for the presence of glyphosate, the most common herbicide in the US, as an added assurance.
A healthy forest. Our farmers limit the number of taps they use in their forests to help sustain the health of the trees. There are no standards in place to limit the number of taps they may have, but the farms have imposed limits on themselves because it is what is best for the trees in the long run.
Buy it here!
Published on May 10, 2017