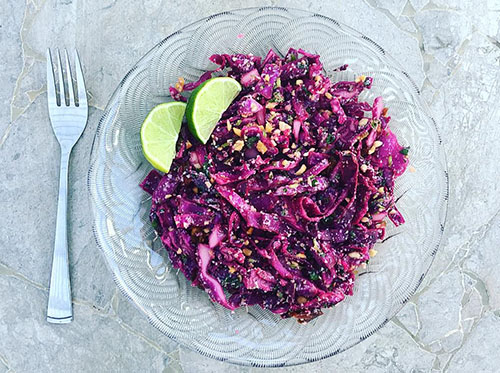 Medjool Dates + Peanuts and Cabbage Salad with Citrus Dressing
photo by recipe author
Servings: Approx. 8 (serving sizes may vary)
Preparation Time: 20-25 minutes
1 head purple cabbage, finely sliced
1 cup fresh lemon juice
1/2 head cilantro (about 3/4 cup), chopped
1 teaspoon ground cumin
2 tablespoons apple cider vinegar with mother
1/2 cup peanuts, chopped
16 Medjool dates, chopped
1/2 cup coconut oil, melted
1 tablespoon honey, melted
salt to taste
In a large mixing bowl combine all ingredients, except coconut oil and honey, stir well.
In a small saucepan melt the coconut oil and honey. Pour over the salad and mix well.
Enjoy this as a light lunch or serve as a side with a larger meal. This tangy salad pairs well as a side to go with grilled meats.
Recipe and photo by Orissa. Submit your creative coconut recipes and photos here for a chance to win $50!
Featured Product
Bison is the purest form of red meat in North America, having never been domesticated and cross-fed for feedlots.
No hormones, antibiotics or GMO feed!
Published on April 20, 2017