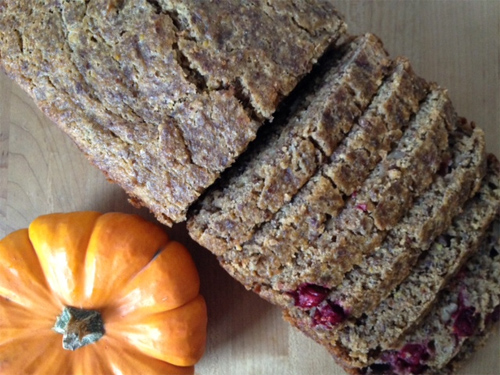 Pumpkin Cranberry Pecan Cider Bread Recipe
photo by recipe author
Servings: 12
Preparation Time: 20 minutes
1. In a saucepan, boil the cider until it is reduced to about 1/4 cup and let cool. Note: this step can be done ahead of time and the reduced cider refrigerated or frozen until you need it.
2. Preheat oven to 350 degrees. Grease 8 1/2 x 4 1/2 inch loaf pan with coconut oil and set aside.
3. In a large bowl, whisk together the pumpkin puree, eggs, coconut oil, maple syrup, orange zest, vanilla, and reduced cider.
4. Add the flour, flax, baking powder, salt, baking soda, and spices. Mix well and add the pecans and cranberries until just combined.
5. Transfer batter into greased loaf pan and baked in the middle of the oven for one hour, or until tester comes out clean. Let the bread cool in the pan and then slice.
Recipe submitted by Kristen, Mattapoisett, MA
Published on November 16, 2012