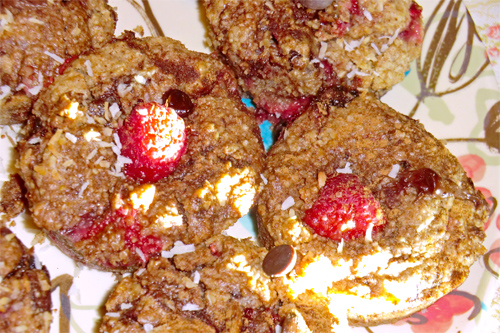 Raspberry Chocolate Coconut Steel Cut Oat Muffins
photo by recipe author
Servings: 11-12 muffins
Preparation Time: 18-20 minutes
1 1/2 cups ground steel cut oat flour (or Scottish oats)*
2 teaspoons baking powder
1/2 teaspoon sea salt
1 teaspoon cinnamon
1/4 cup stevia baking blend or unrefined sugar
1 flax "egg" (1 tablespoon flax meal mixed with 3 tablespoons warm water and whisked)*
1/3 cup coconut oil, melted
1/2 teaspoon vanilla extract
1/2 teaspoon almond extract
1/2 cup almond milk (or other milk of choice)
1/2 cup shredded coconut
1/2 cup dark chocolate chips
1 pint organic raspberries (fresh or frozen)
1. Pre-heat oven to 400 degrees. Grease muffin tins with non- stick cooking spray and set aside.
2. Combine flax egg and set aside.
3. In a large bowl, combine all dry ingredients except coconut, raspberries and chocolate chips.
4. Meanwhile, in another medium- sized bowl, combine all wet ingredients except flax egg.
5. Add wet ingredients to dry ingredients as well as flax egg and mix well till combined evenly.
6. Fold in raspberries, chocolate chips, and shredded coconut (don't over- stir!)
7. Bake for 18-20 minutes, in a lined or well- greased muffin tin, till golden brown.
Recipe submitted by Emilia, Aptos, CA
Published on July 8, 2011