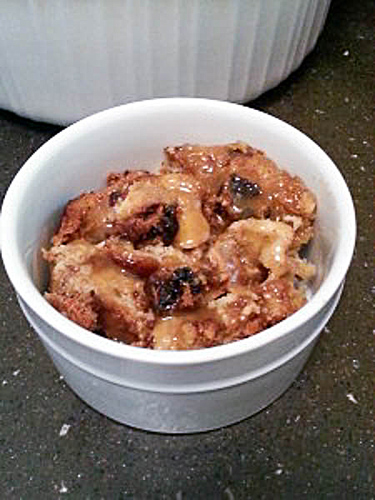 Rhubarb Plum Bread Pudding with Coconut Milk
photo by recipe author
Servings: 8-10
Preparation Time: 2 hours
10-15 slices of dry bread, broke into small pieces (can be gluten-free bread)
2 large eggs, beaten
1 large stalk of rhubarb, diced
1/4 cup dried plums (or raisins)
2/3 cup coconut milk*
1/4 cup raw honey
1 tablespoon cinnamon
1 teaspoon vanilla
coconut oil for greasing pan
In a large bowl, combine bread pieces, eggs, rhubarb, plum, milk, honey, cinnamon and vanilla. Gently mix together with hands until bread starts to moisten. There should be enough milk mixture to cover the bread. If not, add more milk at a rate of 1/4 cup at a time.
Let the mixture set for about an hour in the refrigerator to ensure the bread has absorbed the ingredients.
Pour into a greased 9×9 baking dish. (Cover with foil before baking if you want a less brown crust). Bake at 350 °F for about 40 minutes. The pudding mixture should be set when cooking is complete.
*For the freshest coconut milk make homemade coconut milk. (See video at this link.)
Courtney from Columbus, KS won $50 for this recipe and photo! Submit yours here!
Published on June 3, 2015