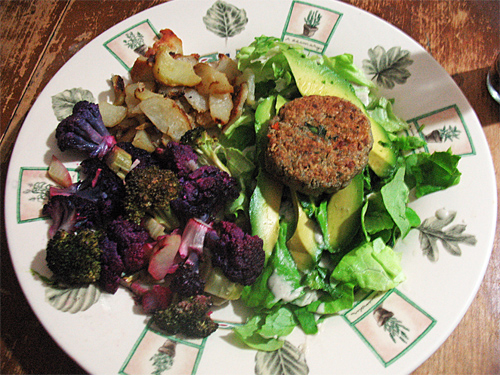 Roasted Broccoli and Purple Cauliflower
photo by recipe author
Servings: 6-8
Preparation Time: 35 minutes
2 crowns broccoli
1 purple cauliflower
3 tablespoons melted Virgin Gold Label coconut oil
5 cloves garlic, crushed
2 tablespoons fresh lemon juice (optional)
Preheat oven to 475 degrees.
Wash broccoli and cauliflower. Chop to uniform bite sizes and place in 9 x 13 pan. Drizzle with coconut oil (and lemon if desired), sprinkle with crushed garlic. Stir well.
Bake 25 minutes or until fork tenderness is achieved.
Serving suggestion: serve with brown rice and salmon. This is also great with salad, avocado, burgers, and fried potatoes.
Recipe submitted by Linda, Woodland, WA
Published on April 29, 2011