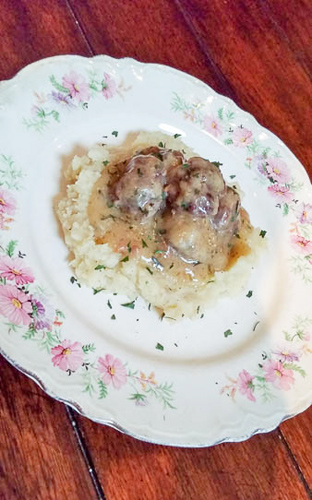 Swedish Meatballs with Turnip Mash
photo by recipe author
Servings: 4
Preparation Time: 40 minutes
Meatballs:
1 pound ground turkey
1 teaspoon salt
1/2 teaspoon black pepper
1 teaspoon ground sage
1 teaspoon ground thyme
1/2 teaspoon ground oregano
1 tablespoon coconut oil
Sauce:
2 tablespoons ghee or butter
1 onion, diced
1 teaspoon salt
1/2 teaspoon black pepper
dash nutmeg
1/4 cup flour
2 cups beef, chicken or vegetable broth

1/4 cup balsamic vinegar or apple cider vinegar

3/4 coconut milk*

1 tablespoon dried parsley
Garlic Mash:
2 large turnips, peeled and diced
1 tablespoon ghee or butter
1 teaspoon minced garlic
1 teaspoon salt
1/4 cup coconut milk*
In a mixing bowl, combine ingredients for meatballs. Form into 1″ balls and place in a skillet with 1 tablespoon coconut oil. Cook meatballs over medium heat for about 15 minutes, turning halfway through, or until cooked completely through. Remove meatballs from skillet.
Add ghee or butter and onion into skillet and cook for about 5 minutes. Add in salt, pepper, nutmeg and flour. Stir until mixture has thickened. Slowly add in broth and vinegar. Stir constantly until mixture starts to thicken. Add in coconut milk and parsley. Return meatballs to sauce.
While meatballs are cooking, add turnips to a medium saucepan and cover with water. Cover and bring to a boil and cook for about 10 minutes or until soft. Drain water from turnips. Add ghee, garlic, salt and coconut milk to turnips. Mash or blend together using a mixer.
Serve meatballs and sauce over mashed potatoes. Sprinkle with parsley.
*For the freshest coconut milk make homemade coconut milk. (See video at this link.)
Courtney from Weir, KS won $50 for this recipe and photo! Submit your coconut recipes and photos here!
Published on February 1, 2016