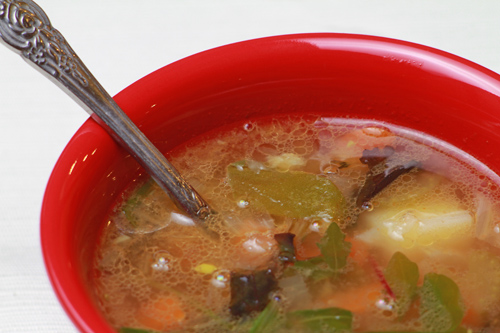 Feel Good Cold Weather Soup with Coconut Oil
Prepared by Sarah Shilhavy, Photo by Jeremiah Shilhavy
The veggies in the ingredient list are only suggestions – the ingredients shown are what I had on hand at the time.
Servings: 4-6
Preparation Time: 15 minutes
1 quart organic chicken or beef broth
1 small red potato, diced
2 ribs celery, chopped
1/2 large white or yellow onion, chopped
2 small carrots, chopped
Lemon pepper or regular black pepper
Salt to taste
Cayenne pepper to taste
Handful leftover herb salad mix
1 small and 1 medium zucchini, diced
3 large cloves garlic, minced
1 knob fresh ginger (about 1″ by 1 1/4″), peeled and minced
2 – 4 tablespoons virgin coconut oil
Juice of 1/2 lemon
Bring broth to a boil; add the veggies that need to cook longer. Example: potatoes first, boil a few minutes, celery, onion and carrot next (if you want your carrots only partly cooked and still crunchy add them in the last 10-5 minutes of cook time). Add seasoning at this point or wait until the end.
Lower heat and simmer for about 20-30 minutes or until potatoes are tender.
Add remaining ingredients.
Recipe submitted by Simi, Los Angeles, CA