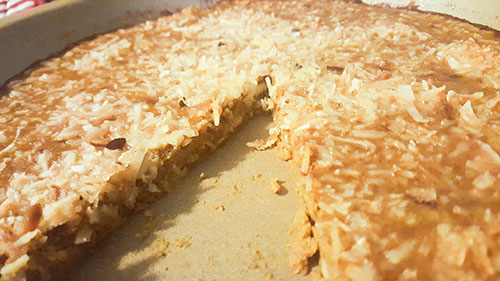 Gluten Free Crustless Pumpkin Coconut Pie
photo by recipe author
Servings: 8
Preparation Time: 10 minutes active + baking time
Preheat oven to 350° F and prepare pie pan with coconut oil.
Beat eggs and stir in all ingredients except shredded coconut until well combined.
Sprinkle with toasted coconut. Bake until set, approximately 1 hour.
Homemade Fresh Coconut Milk
*For the freshest coconut milk make homemade coconut milk. (See video at this link.)
Featured Product

Farmer's Market has the perfect growing conditions in Oregon for pumpkin with brilliant color and gourmet flavor. It's perfect for daily use in soups, breads, muffins, pancakes, cookies, stews, side dishes, and biscuits—adding fiber, nutrition and richness.

Packaged in tetra pak boxes. No cans, no BPA!

"Healthy Traditions has tested Farmer's Market pumpkin puree for the presence of glyphosate. Due to a traceable path back to the producers, we believe we can offer this product confidently to our customers by testing it once a year after harvest."
Kelly from Monterey, CA won $50 for this recipe and photo! Submit your recipes and photos here!