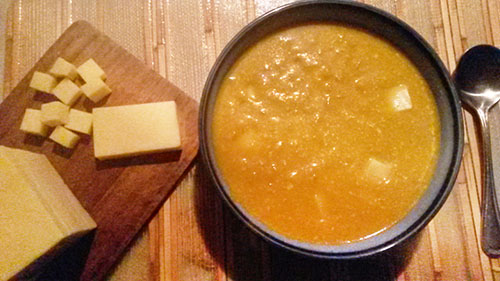 Gluten Free Winter-Thyme Satisfying Soup
photo by recipe author
Servings: 10-12
Preparation Time: Approximately 1 hour
5-7 cups hard winter squash – precooked in oven, scooped from skin, well blended
2 cups purified water
1/2 cup coconut flour
2 onions, finely diced
2 tablespoons virgin coconut oil
2 tablespoons grass-fed butter
2 teaspoons thyme
2 teaspoons ginger (ground, grated, diced, or juiced)
2 cups coconut cream concentrate or organic 1/2 & 1/2 or heavy cream from grass-fed cows may be substituted
1 1/2 teaspoons ground black pepper
2-3 tablespoons salt
1/4 cup organic fermented soy sauce
organic cheddar cheese from grass-fed cows, optional
Place squash in a large pot and set aside.
Whisk together coconut flour and the 2 cups of water; set aside.
Sauté the diced onions with the thyme and ginger in the oils until clear and tender. Cool slightly.
Combine the coconut cream concentrate, black pepper, salt, and fermented soy sauce with the squash, onions, and flour/water mix in the pot.
Heat to just under a boil and simmer 20 minutes.
Add coconut cream concentrate and optional cheese.
Bring back to serving temperature.
Diane from Hubert, NC won $50 for this recipe and photo! Submit your recipes and photos here!