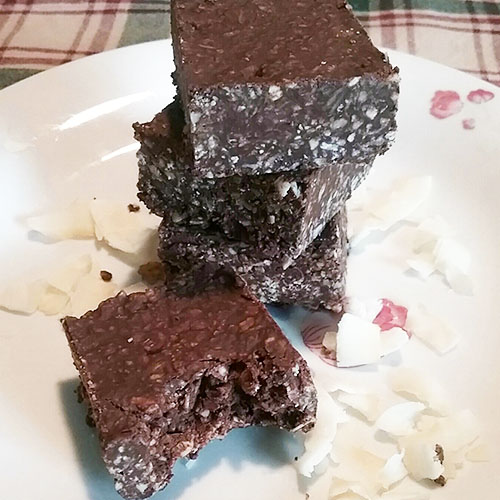 Chocolate Coconutty Bars
photo by recipe author
Servings: 35 square bars
Preparation Time: Approx. 15 minutes + cooling time
Turn stove on low. Melt chocolate, coconut cream concentrate and coconut oil in a pan.
Blend nuts in a food processor until fine.
Grind coconut chips (if you prefer it to be chewy, skip this step).
Mix oats, coconut chips and blended nuts together in a bowl.
When chocolates are all melted, put in dry ingredients and mix well. Put mixture in an 11 x 7 pan. Spread evenly and set aside to cool and harden, or pop in the fridge to speed this up.
When firm, slice into little squares.
Myra from Lewiston, ME won $50 for this recipe and photo! Submit your recipes and photos here!