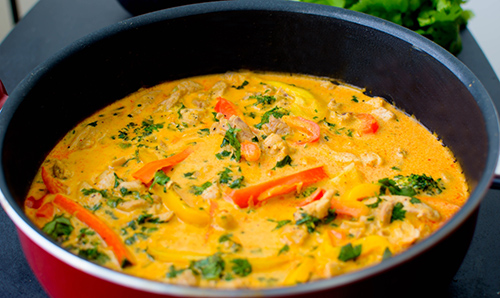 Dairy Free Thai Red Chicken Coconut Curry
photo by recipe author
Servings: 4
Preparation Time: 20 minutes
1 tablespoon red curry paste
1 tablespoon fish sauce

2 cups coconut milk*

2-3 tablespoons olive oil or coconut oil
2 boneless, skinless chicken breasts
1 teaspoon crushed black pepper

1 teaspoon grated ginger

1 teaspoon grated garlic

1 onion, finely chopped
3-5 brocolli florets
1-2 carrots
1/2 red bell pepper
1/2 yellow bell pepper
1 teaspoon red chili powder

1 teaspoon curry powder

1 bunch cilantro, chopped
Thai Gravy:
In a medium bowl combine red curry paste and fish sauce with fresh coconut milk. Stir well, until smooth.
Chicken:
Heat a pan on medium high heat. Add oil and fry chicken pieces along with some black pepper for about 5-6 minutes or until tender. Remove chicken to dish along with liquid released by chicken.
Curry:
Use the same pan. Wipe it clean with a paper towel then add a tablespoon of oil and sauté grated ginger and garlic for a minute. Add onions and sauté until onions become translucent. Add broccoli florets and sauté for a minute. Now add carrots and thinly sliced red and yellow bell pepper. Mix well and cook the vegetables covered for 2-3 minutes. Remove the cover and add cooked chicken. Mix well. Cover again and cook for 2 minutes. Add in the prepared Thai gravy. Sprinkle red chili powder and mix. Let it come to a boil. Keep the heat low and let it simmer for 5 more minutes. Add curry powder and mix well.
Sprinkle chopped cilantro, mix well and remove from heat. Serve with rice.
*For the freshest coconut milk make homemade coconut milk. (See video at this link.)
Pooja from Fort Worth, TX won $50 for this recipe and photo! Submit your coconut recipes and photos here!