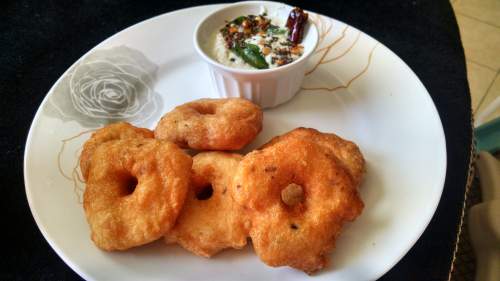 Gluten Free Garelu with Fresh Coconut Chutney
photo by recipe author
Servings: 10
Preparation Time: 30 minutes
Garelu:
2 cups Black Gram (Urad Dal)
1 tablespoon freshly grated ginger
3 green chilis
salt, to taste
coconut oil, for frying
Coconut Chutney:
1 cup raw grated coconut, or dried shredded coconut
3 green chilis
salt, to taste
1 teaspoon lemon juice
1 teaspoon butter 
3/4 teaspoon mustard seeds
1 sprig curry leaves
1 red chili
Garelu: 
First, soak Urad dal for 4 hours. Rinse thoroughly using a strainer. Then add fresh water and soak Urad dal overnight.
Discard water from the soaked dal before grinding. (Grind dal using a wet grinder.) Add the soaked dal to the wet grinder and add salt. Add ginger and green chilies.Then add 2 teaspoons of water and grind. Continue adding 1 teaspoon of water at intervals depending upon the requirement while grinding. Grind the dal until soft to touch, then beat to fluff the batter. (To test the fluffiness of the batter add a small portion of batter to a bowl of water and observe that the batter floats on water. If the batter sinks in water then beat again, until batter is light enough to float.) Set prepared batter aside.
Heat a pan and add coconut oil to it, enough for frying. Bring heat to medium-high.
Wet your fingers and take a small portion of the batter and shape into a round ball. Flatten the ball with your hand. Dip thumb in water and make a hole in the flattened ball. Continue until you have used all of the batter.
Drop the prepared garelu carefully into the hot coconut oil. Using a slotted spoon, turn garelu in the oil until both sides are fried golden-brown. Remove fried garelu using slotted spoon and place on a paper napkin to soak up excess oil before serving. Serve garelu hot with coconut chutney.
Coconut Chutney:
In a blender, combine freshly grated (or dried) coconut, fried green chilis, salt, lemon and a little water. Blend until smooth.
Heat butter in a small pan. Add mustard seeds, 1 sprig curry leaves, and 1 red chili. When the mustard seeds crackle remove from heat and pour this over the coconut chutney. Mix well.
Enjoy with hot garelu.
Note: Add 1/4 bunch cilantro while grinding coconut, if desired.
Sowji from Frisco, TX won $50 for this recipe and photo! Submit your coconut recipes and photos here!