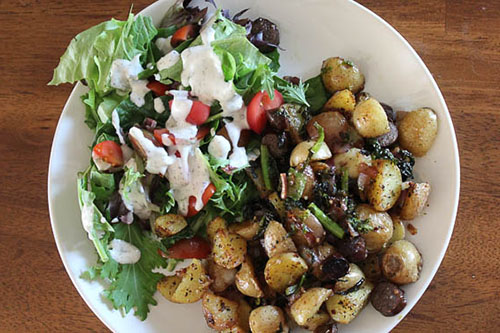 Simple Summer Skillet
photo by recipe author
Servings: 4
Preparation Time: 20 minutes
1 pound asparagus spears, cut into 1″ pieces
3 cups greens (preferably kale, spinach or mustard greens)
2 cups baby potatoes, halved (any color variety)
1 cup broccoli florets, finely chopped
1 tablespoon coconut oil
1 teaspoon salt
1/2 teaspoon black pepper
1/2 teaspoon garlic powder
1/2 teaspoon chili powder
Combine ingredients in a large skillet over medium heat. Pan roast vegetables for about 10-15 minutes or until cooked through and slightly crispy, stirring occasionally.
Optional add-ins: sausage, ground beef or bison, and/or sauerkraut.
Courtney from Weir, KS won $50 for this recipe and photo! Submit your recipes and photos here for a chance to win $50!